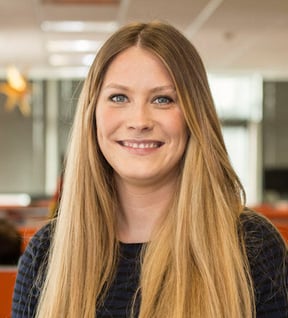 Our mover and maker this week comes to us live from Dublin, Ireland. Síle is a PM on HubSpot's email team working closely with our customers, designers, and engineers to make emailing more intuitive. Here's a snapshot of how she became a PM, her first day at DubSpot, and the song we should all be listening to right now.
Name: Síle Brehony
Role: Product Manager
What song is stuck in your head these days? Gooey by Glass Animals. Saw them recently - amazing! It's also a great song for concentrating - gets me in the zone :)
How do you like your coffee? Cappuccino or flat white (so milky). I'm anti sugar in coffee and constantly forget that a lot of places in the States add it by default - bad times :/
What made you want to become a product manager?
It wasn't something I sought out necessarily - it kind of happened organically. My background was initially in graphic & web design (not to mention interactive art installations - but that's another story ...). So clean, intuitive, user centric UI design was always something that was very important to me. From there I moved into e-Commerce business analysis, which broadened my understanding of the importance of UX in business. Product Management came calling a few years later and I've loved working as a PM ever since. There's nothing better than seeing an idea develop from early concept stages right through to fully delivered software that customers love.
What was your first day at HubSpot like?
Exciting. Strange. Surreal. All of the above. I was the first PM based in our Dublin office so it was both exciting and challenging trying to figure out my place within the team, but that's what HubSpot is all about. Every team has ownership of the product, no one tells you what to do (there's no rule book) - people are trusted to step up and figure out what needs to be done.
There was also a LOT of food going around. Granted not on the first day - but certainly in the first few weeks I consumed my own body weight in Haribo sweets and chocolate - welcome to CHubSpot :)
What's been your proudest moment at HubSpot so far?
Shipping our first feature release for the new email performance screens and knowing we'd heard what customers truly wanted. Feedback from customers was really positive so for my team, it was validation that our process during research and design worked. You're never fully done when it comes to improving features, but knowing we're tapped into the pulse of our customer network is a big win.
What's one thing that you think is unique to building products at HubSpot?
I love how user-driven product development is here. We constantly speak to customers and listen to their feedback. Ultimately, if the product isn't working for them, then it's not a success - simple as that! But strangely, this is something other tech companies often overlook.
At HubSpot we wireframe and test out designs with customers before they even get to development, so users are massively involved in the process. We also have a fantastic group of customers that beta test new features during development, which helps us re-evaluate and refine the product as we go. HubSpot customers for President!
Working in product development, I've worked with lots of talented people over the years, but in HubSpot the level of talent is consistently high. Being surrounded by the smartest people in tech is amazing - it pushes you to be the best and deliver the best products you can.
What's your favorite part of the Culture Code and why?
Humble. Effective. Adaptive.
It still amazes me that even though I work with some of the smartest minds in tech - people stay humble. They're grounded and constantly striving to learn - there's no room for ego's or complacency here.
I LOVE the GSD (Get Shit Done) attitude in HubSpot. I've worked in companies with super lengthy dev & QA cycles - so by the time a product gets delivered to market, it's already out of date or no longer relevant. I call this paralysis by analysis :( It's no good for the people building the software, who get project fatigue, are bored and lose interest. And it's definitely no good for customers using your software.
That's all from our mover and maker this week, but you can follow Síle here. Stay tuned for our next profile and check out Jen Huang's in case you missed it!