At HubSpot, we believe that how you sell is why you win⁠—disruptive, exceptional customer experiences are the key to growing better for the millions of organizations that HubSpot seeks to serve. And we know that extraordinary customer experiences are built by teams of people and connected software applications working together with a common understanding. The data proves it out—organizations of all sizes are using more SaaS apps than ever before to run their businesses, and they are feeling the pain of integrating and managing it all. They need a clear, orchestrated tech stack that makes their lives easier, not harder.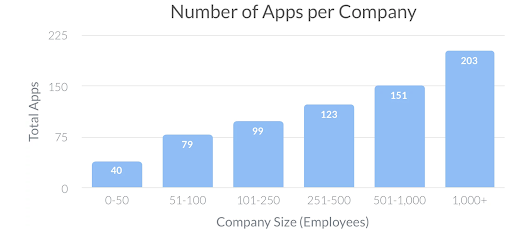 Source: 2019 Annual SaaS Trends Report, Blissfully
What does that mean for Product Teams?
Product folks love to develop innovative solutions to meet customer needs. In this case, it's not one solution, it's an ecosystem. My team at HubSpot is the Ecosystem Product Group (EcoPG)—we empower external products and services to connect to the HubSpot platform, and help our customers find solutions that will drive their growth.
To create a winning customer experience (for their own customers) and grow better, HubSpot's customers need three things:
Software that removes friction and accelerates their flywheel

—

enabling them to attract, engage, and delight their growing customer base.
A system of record that provides a common understanding of each customer and all of the interactions they've had with the organization.
Skilled humans to help the organization lean into their strengths and shore up their weaknesses.
Let's break it down…
Customer Need #1: Software solutions that remove friction and accelerate the flywheel
This reflects the prime directive of all HubSpot Product teams—understand our users' needs and build them valuable, usable software tools that will help them grow better. We acknowledge that we are never going to build everything for everyone—there is awesome innovation happening outside our orange walls.
Valuable, delightful, tightly integrated software solutions start with the developers who build them. And they need extensibility—APIs that flow data in and out, plus UI real estate to bring their value inside our platform. All while ensuring the security and privacy of our customers' data. By giving external developers all the tools and access they need to develop Really Cool Things that our users desperately need, it's as if we're growing the capacity of our Product team. Exponentially. Embracing platform thinking like this allows us to solve for our customers better and faster. And we know that extensibility alone won't make developers love us (and more importantly, encourage them to develop on our platform). We're continuing to invest end to end, creating a sense of community and backing up our commitment to an open HubSpot platform.
Customer Need #2: System of record
Ah, the center of the flywheel—the system of record. Yes, that's our CRM, and it's getting more powerful every day. It can only be a true system of record, a single source of truth, if it brings together ALL of the data that an organization has about a customer. Every integration contributes to that in some way, but bi-directional synchronization is at the heart. With our world-class Salesforce connector and the addition of PieSync (which is already growing from contacts to companies and will continue to expand), we are well on our way to unmatched sync capabilities that a mere mortal (read: non-developer) can understand and configure. I can't overstate the importance of this – in a world where data drives a connected experience, sync is the lifeblood.
Customer Need #3: Expert help
While all of HubSpot's customers are smart and creative and incredible, much like ourselves they can't be masters of all things. They need help, not just from software but from people. HubSpot's evolving partner community stands ready to meet that challenge in a mind-boggling variety of ways, and it's the job of our Marketplace to match the right customers with the right providers of the right products/services at the right time. No small task! The Marketplace today serves up Apps, and in 2020 we'll add Solutions Partners and CMS Assets to the same framework. Beyond that who knows? Well, we've got some ideas, but the sky's the limit.
HubSpot is helping millions of organizations grow better—but they don't have to grow it alone. The expanding ecosystem is here to enable their success in a myriad of ways, with the HubSpot platform as the foundation. Want to join the party? Learn about building on our platform, or read the latest news on our Solutions Partner program. Check out our Chief Strategy Officer's view on the HubSpot ecosystem and its growth over time. Together, we can enable anything.