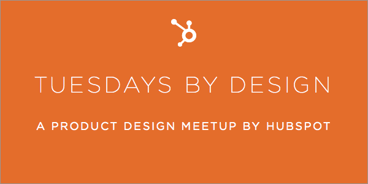 When Sean Duhame was asked last night how the role of designer has changed, he explained that designers today have more responsibility than they did ten years ago. "The world now understands that design is the linchpin for success," he said. Not surprisingly, designers are constantly pushing themselves to get better at their craft and sometimes, that means stepping away from the screen to learn from design leaders.
Last night, designers from all different backgrounds came out to HubSpot HQ for our first-ever Tuesdays by Design meetup to hear from Sean, Tim Merrill (Senior UX Manager, Medullan), Will Smith (Director of Product Design, InsightSquared), and moderator Nelson Joyce (Product Entrepreneur, Leadin) on how they can grow that newfound responsibility into a successful career in design. Thanks to their reflective, honest, and sometimes challenging responses, the panelists felt more like mentors for 45 minutes and gave the audience a ton of valuable (and tweetable) advice to absorb.
Whether you're thinking about getting started in product design or are managing a team of designers, these four discussion recaps from last night's panel are helpful for anyone growing a career in the design world.
On Getting a Formal Design Education
Thanks to free resources like YouTube Photoshop tutorials and design blogs, there's never been a better time to become a designer. "It's easier than ever to take some initiative," Will said. This begs the question: do you have to go to school for design? Panelists agreed that a formal education is invaluable for understanding the fundamentals of design. "Layout, spacing, grid, typography, get that stuff down. That's the basis of visual communication," Tim shared. Aside from building that foundation, design classes give designers the opportunity to get used to feedback. Nelson added that giving the wrong answer in school used to be a bad thing but when designers get comfortable with critique, "you almost want to be wrong so you can learn from that mistake."
"Design school is really good for the critiques and softening up the ego a little bit." - Will Smith

Going to design school is important for learning the basics but Sean said he's hired talented designers with zero training. Not everyone is going to start their careers with a four year degree in design and that's why he'd "love to see more old school mentorship."
On Being a Good Person
Whether you're just starting your career or trying to take it to the next level, it's crucial to know what employers are looking for in designers. Panelists shared what's top of mind for them when talking to design candidates and their responses had nothing to do with your resume or portfolio. It's about character.
"Attitude first, aptitude second. If you're humble, you tend to be a good listener and other things just follow." - Sean Duhame

Will wants to work with designers that have empathy, first and foremost. "You need to be able to think around the whole problem and think about the users," he said. To know if someone is empathetic, he looks for designers that have "diverse experiences" and asks how they arrived at their decisions to gauge how they solve problems and think about the user. Another big theme was passion. "If you're passionate about something, even if you don't have the skills, you're going to work hard to get better at it," Tim explained. He wrapped the question up by illustrating why designers should think about personal and professional development in tandem: "If I can tell that you're someone I actually want to work with, that, being a good person, is going to mean more than anything."

On What Designers Should Look for in a Company
After discussing what our panelists screen for when hiring designers, we shifted gears to what designers should be picky about when looking at companies. And, all signs pointed to impact. You want to work at a company where you can shape the final product and where there's support for a designer's vision, Will said. Panelists agreed that you have to talk to the people actually doing the work to figure that out. The hiring manager or interviewer won't always be the best indicator for how designers contribute on a day-to-day. Ask engineers about their relationship with their designers. Ask them what the CEO is like and if she dictates the product vision or collaborates with the product team. Their responses can tell you a lot about a company's culture.
"I look for meaning at a company, a sense of purpose. I look for a place where the employees actually care about the stuff they're doing." - Tim Merrill

Beyond having the ability to make an impact on a mission you care about, designers should think about matching their values up with those of the company. "If you're a scrappy person, then find the place where you can do that kind of work. You really have to align what you want out of being a designer with the company's philosophy," Sean said.
On Working with Engineers
When the floor opened up for questions from the audience, one of our product managers sparked a conversation on how designers can best collaborate with engineers. Panelists had a few different ideas to share like Will's tip on using customer stories and personas to connect with engineers and illustrate the common ground between design and development. The best alignment though, according to Tim, happens when designers welcome engineers' feedback. Instead of getting defensive and pushing back, get developers on board early by being open to their feedback and acting on it.
"When you're doing research and developers are part of that ideation process, they get a sense of ownership."- Tim Merrill

Sean said user flows are always a good way to bridge the gap between product design and engineering. Talking through the steps a user will have to take with your product and what could happen along can get a valuable dialogue started. "Engineers understand logic and that's what flow is all about," he added.
Designers today do have more responsibility than they did a few years ago. And I think part of that responsibility is furthering the design community by adding value where you can. For seasoned designers like Tim, Will, Sean, and Nelson, that means helping other people navigate the waters and grow their own design careers. So, I'd like to give a big thank you to them for sharing their insights at Tuesdays by Design. Stay tuned for the next event; we hope this can continue to be a platform for designers to learn from one another and get inspired, off the grid.