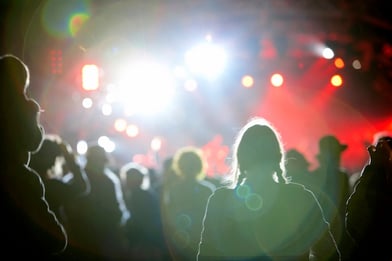 The 2015 Grace Hopper Celebration is less than a month away and women from all over the country are getting ready to take over Texas, see as many talks as possible from speakers like Sheryl Sandberg, and meet a ton of new people that are passionate about product development. If that sounds awesome, it's because it is.
I've been to GHC a few times with Northeastern's Women in Tech group, and am lucky to be leading a Student Lab Opportunity discussion this year and attending with a few coworkers. If this is your first time heading to GHC, with all that there is to do and see, knowing what to expect is key. (Hanging out with me, Jen, Ollie, and Danielle at the HubSpot booth in the Exhibitor Center is, too, but I might be a little biased.) So as we're all preparing and packing over the next few weeks, I wanted to share some tips with first-timers for making the most of your time at GHC.
Caffeinate Early and Often
I've done the important research, ladies. There is only one Starbucks in the entire conference center. You know what that means: lines on lines on lines. You don't want to miss out on a session because you couldn't keep your eyes open or were waiting for coffee, so grab your morning cup of joe before you get there. There will be thousands of people at GHC who will be hitting up the nearby coffee shops, so if you need an afternoon pick-me-up, factor a few extra minutes into your travel time.
Charge Up
Most conferences have pretty sweet apps that provide session agendas, maps, and tons of other information you're going to want on-hand. If you plan out your day in the app (which you definitely should, so download it here) and your phone dies, it's going to be a pain to flip through the conference booklet while you're on the move. Plus, if you're rolling in with a great crew of co-workers, friends, or classmates, you don't want to be the one person who missed out on the details of a pop-up event by Google later that night. (Follow the #OurTimeToLead stream on Twitter to follow updates and conference play-by-plays.) I recommend carrying your charger in your bag at all times, using charging stations throughout the conference center when you get some downtime, and if you want to get really crazy, buying a chargeable case.
Layer It On
Though you're flying to Houston for GHC, remember that you won't actually be out in that Texas heat for most of your trip. Conference centers like to blast the air-condition so pack your favorite sundresses but make sure to grab some sweaters or scarves to layer on during the events and sessions. It's so much easier to focus on what speakers are saying when you're not counting the goose bumps on your left forearm.
Have an Agenda
There will be a lot going on at GHC so having a plan for each day is important. You don't want to find out there's a talk that's right up your alley ten minutes before it ends. Set aside half an hour ahead of time to go through the GHC schedule, pick out which events you absolutely don't want to miss, and make your own agenda either in the app or on your Google calendar. I recommend showing up 20 minutes early for talks that are high on your list just in case there's a line. If you'd rather not wait, choose backup sessions to go to in case your original plan doesn't work out.
Break the Ice
Whether you're waiting in line, sitting in a session, or walking around the convention floor, make an effort to meet the people around you. GHC is a magnet for bright women in CS from all walks of life so you could learn as much from conversations with attendees as you will from sessions. I know "networking" always sounds a little intimidating, so just remember that you already share common interests with pretty much everyone there. All you have to do is break the ice with a simple "Which speakers have you seen so far?" or "Who's giving out the best swag?"
Have Happy Feet
Conference centers are huge and since GHC has a deep bench of noteworthy speakers and topics, you're probably going to spend most of the week booking it from session to session. So pack comfortable shoes. If you're dressing up for interviews, consider wearing black flats that are practical and appropriate. Otherwise, stick to your trusty Chucks.
Be Résumé Ready
Hundreds of great companies will be at GHC's Career Fair looking to meet new talent. So if you're in the market for a new opportunity, make sure to print a bunch of copies of your résumé before the conference. Even better, bring them in a folder and make sure that whatever bag you bring has enough space to store said folder. It's frustrating to carry around multiple bags and you don't want to worry about handing a crumpled résumé to a company you're trying to impress. Keep in mind you'll probably have a swag bag full of stuff to carry, too. (Pro tip: swag bags are identical so tie something unique to the handles so you don't lose yours or take the wrong one.)
Stay Hydrated
Drink water. And then drink some more water. It sounds obvious but sometimes travel or a new routine can make it easy to forget the little things we do to take care of ourselves. Chances are, you'll be heading out for some late evenings, so stay hydrated throughout the day to keep your body primed for long days of learning, networking, and being on your feet. (Luckily, conferences are great for free swag so if you can, snag a water bottle from the Exhibitor area to fill up throughout the week.)
Step Away From the Laptop
If you *really really* need to do some work, bring your laptop. Otherwise, try to minimize the extra weight and let yourself get totally immersed in the event. You're there to meet people, hear about their experiences, and enrich your own academic and career path. When you get back to normal life and people ask about GHC, you don't want to talk about the project you finished but about the talks you loved, interesting discussions you had, and new people you met.
Get Some Air
Though they're a blast, action-packed days can feel pretty long. So every now and then, or when there's some downtime between sessions, get outside. Dipping out of the convention center for a breath of fresh air will recharge you and remind you that you're in a cool new city. A quick Google Maps search tells me there are a ton of restaurants within a few blocks of GHC. Pick one for lunch one day or grab something quick and eat outside in some green space nearby.
Take It All In
This one is sappy but remember to stop and take it all in. At my first GHC, I remember feeling so overwhelmed by how awesome it was to be surrounded by so many people who weren't surprised by the simple fact that I am a software engineer. These are your people, this is your community. So bask in it and enjoy the fantastically good vibes flowing at GHC.
If you have any other GHC tips, or have a question about the conference, please let us know in the comments. We hope to see you in Houston!
Big thanks to Allison Ventura, a fellow Northeastern alumni and HubSpot software engineer, who shared her GHC experience here, too.