Interested in applying? Click here for more info.
"I want to build a company my kids and grandkids can be proud of" is a quote we often repeat from our founders. In the product organization, we say "we build careers, not software," because we believe that what we build is about the people, our users and customers, not about a list of capabilities. We think the same of our employees: they aren't just cogs in a machine, but people whom we care deeply about, people whose careers we want to grow. As a UX organization, we want to take this even further.
The Associate UX (AUX) Rotational Program aims to educate the next generation of UX professionals, by bringing on individuals who have all the potential but just need that first step. We want to make UX more accessible to those who have been unable to break into this industry.
When I started out, I applied to hundreds of places and would rarely hear back. It's an experience I still hear about when connecting with aspiring UXers. Entry-level UX roles are few and far between, with many job listings still requiring multiple years of experience. At HubSpot, we want to change that, and we hope that other companies will do the same.
What is the AUX Rotational Program?
The program currently consists of three six-month rotations. In each rotation, the associate UXer is embedded onto a product team as a full-time employee, no different than any other employee. They're paired with two mentors, consisting of a product designer, content designer, or researcher. They gain exposure to different areas of the business, team dynamics, and networks, diversifying their UX development across design, research, and more.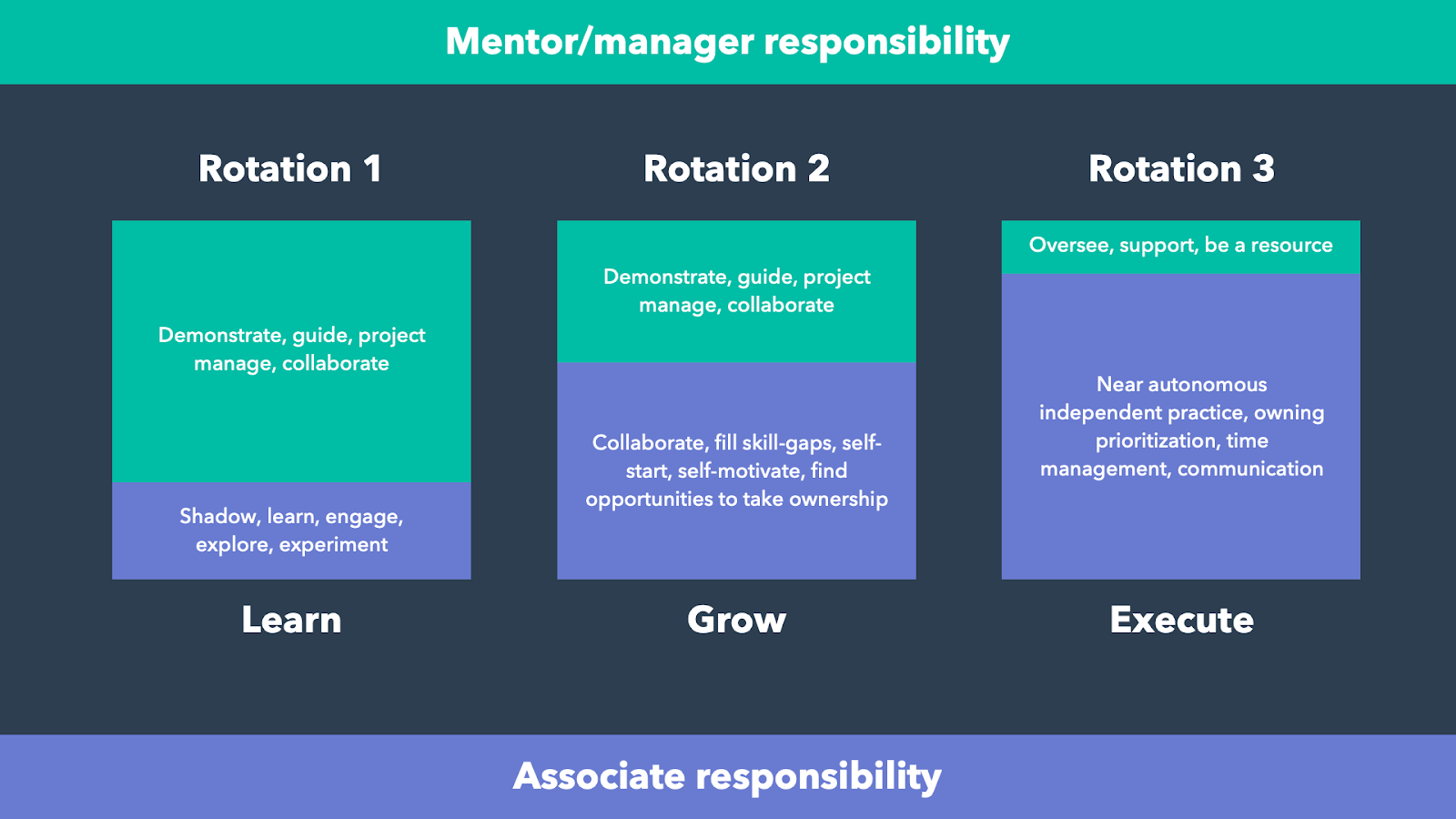 Learn
Our associates' first rotation focuses on learning. While embedded on their teams and working on real-life small scope projects, they also meet for a once a week class to learn some of the fundamentals of UX. These classes are run by various UXers in the organization and show how these fundamentals are applied at HubSpot.
Grow
As associates move on to the second rotation, the focus moves to growth. Associates will work with their mentors to take on more ownership, focusing on applying what they've learned, and exposing themselves to areas they may not have covered in the first rotation. They'll also tackle more end-to-end projects, with a larger scope.
Execute
The final rotation is focused on the application and execution of what they've learned throughout the program. Their mentors will mostly be there to oversee and provide support, with the associates taking on full responsibility of initiatives and overseeing their project management and prioritization in coordination with their teams.
Throughout the program, the associate will continuously get feedback and receive quarterly informal reviews with their mentors. After 18 months, provided the associate has maintained an excellent track record of performance and there are available roles, they will be promoted to a Product Designer, User Researcher, or Content Designer role.
What we look for
An interest in UX
We want to see that an applicant has made a clear effort in their journey to becoming a UXer. We want to know how they've learned about UX, what makes them excited about it, and why they want to pursue this as a career. We also want to hear about what they're doing to prepare for a UX role, and where they're at in their learning journey.
People-focus
Our UXers are obsessed with our users. We talk to them all the time, and try our best to ensure we are always solving for the customer. We look for folks who have been able to apply this customer-centric mindset in their own roles, even if their user-base may look a little different. The best applicants will be solving for their own customer, even if it's not a customer who is literally paying for a service or product. Perhaps it's volunteers they are coordinating, or students they are solving for. No matter what form it takes, we look for folks with a high level of empathy and human interest.
Communication, collaboration, coach-ability
These skills underlie a lot of what we do as UXers, enabling us to be the most engaged and effective with our teams. We want our associates to become full team members, learning from their mentors and peers, as well as offering their own perspectives. As the associate progresses through the program, their communication and collaboration will be key in defining their work and sharing their insights with their teammates. This will ultimately lead to better experiences for our customers and more impactful work. As they are coached throughout the program, they'll be expected to incorporate their learnings and feedback to continue to develop and deepen their understanding of their product areas.
Adaptability and problem solving
What we work on as UXers shifts with the priorities of the business, as well as with constraints that may pop up along the way. We may design what we think is the perfect user experience only to uncover a new piece of data that changes our direction. We're looking for folks who are excited to unpack a new problem each day, and can adjust to meet the needs of the business and learn in doing so.
FAQs
What should I do to prepare?
Most often I tell folks to really take a look at their resume and how they've positioned their past experiences. How are they designing themselves? UX is everywhere, so I urge folks to consider how their previous experiences map to a UX skill set. For instance, someone working in customer support might reference the interactions they had with customers and their user focus, or a teacher might talk about how they measured success with their students. For more resume tips, check out this article from Loe Lee, a UX Manager at HubSpot, on Designing a User-Centered Cover Letter and Resume.
I'd also recommend checking out our AUX Product Design Book List, which has resources folks from our team have thought were helpful for them in their UX journeys.
What if I've never worked in (tech/product/UX)?
That's totally okay, and expected. Everyone has to start somewhere, and that is part of the mission of this program. We're looking for potential, folks who can be coached and taught the technical skills of UX.
How is HubSpot organized? Where does AUX fit in?
UX is part of our broader product organization. In the product organization, we have several product groups, under which there are many small autonomous product teams. They vary in size, but each typically has a Product Manager (PM), a Product Designer (PD), and a Technical Lead (TL) who manages the dedicated software engineers who work on that team. The PM, PD, and TL will work together to determine what the team should work on. They'll also work with our UX Researchers, Content Designers, and Analysts who tend to work across multiple product groups. Depending on your mentors, as an AUXer you'll be a full fledged team member, sitting alongside the PD on a specific product, or alongside the UX Researcher or Content Designer at the group level.
Do I need a portfolio?
No, we won't be looking at portfolios, though it's a great exercise in crafting your own narrative, even if you're just starting out.
Is this program remote-friendly?
This program is remote-friendly. We are able to hire candidates based in the United States as well as in Ireland.
When can I apply?
The listings for this role (in the U.S. and in Ireland) are now live on our careers site, and will remain up until April 14, 2021 at 5pm EST/ 9pm GMT.
What happens after I apply?
The interview process is broken up into 5 progressive stages:
Resume review
Video exercise where you answer a few questions
Recruiter phone screen
Manager phone screen
Video interview with the UX team